While our federal government drags its feet on climate action, ordinary people are stepping up. Since the election, we've seen a surge of people from all walks of life committing what it takes to fight for a safe climate.
From Kingborough in Tassie, to Wagga Wagga, to Sydney, Paris, London and New York: the wave of councils, towns and cities declaring climate emergencies is growing by the day.
Sign the open letter and join the fast-growing movement of people doing what it takes to force political leaders, business and the media to recognise the climate crisis for what it is: an existential emergency that requires emergency action.
Add your name now.
We're in a climate emergency. Act like it.
Are you in? Join the fast-growing movement of people calling the climate crisis for what it is: an existential emergency that requires emergency action.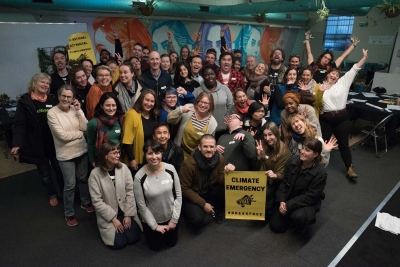 To the Australian Government,


Australia, and the world, is facing a climate and extinction emergency. It is time to act like it.
It is all around us. This crisis is impacting our lives in so many ways - devastating droughts are pushing our farmers to the brink, families are losing everything to bushfires, coal-driven air pollution is costing lives and our Reef is on life support.
You have totally failed to do what's needed to move away from the number one cause of climate destruction - coal. You have failed us, the people you represent. Successive governments have presided over shameful inaction.
We simply don't have time to wait for you. And we are not. We will overcome the political and corporate system that enables and protects the fossil fuel industry, and transform it.
The solutions to this crisis are at our fingertips. A 100% renewable Australia - backed by the overwhelming majority of Australians - is realistic and achievable.
Together, we - the Australian people - are sounding the alarm from the ground up. Already the climate revolution has begun in our communities. Street by street, neighbourhood by neighbourhood, city by city. Driven by this rising tide of community action, a wave of councils have declared climate emergencies, with more joining all the time.
We will hold you accountable. We will do what it takes. We'll participate in acts of peaceful defiance in our masses to disrupt business as usual for the biggest polluting companies.
We won't stop until the Australian Government, polluting companies and the mainstream media tell the truth about the climate crisis: it is an existential emergency that requires emergency action.
Signed by the Break Free movement

Want to make a financial contribution instead?

Donate to power the movement:
Call: 1800 815 151
Authorised by D. Rowe, Lvl 2, 33 Mountain Street, Ultimo NSW 2007